After taking down the Christmas decorations, our mantel looked so bleak...depressing actually.
So I started gathering items I already had, the books, chubby bird, old bottles, white pitcher and candles.
blue and silver snowflakes along with the star garland which I simply laid on top of the pitcher.
Oh how I love snow! Our living room has rich brown leather, cream walls and what I call country blue curtains. So adding blue to the mantel is too easy of a choice. Who said decor has to be difficult?
The huge snowflake came from Dollar Tree after Christmas sales (50 cents), as did the blue and white snowflake picks in the pitcher and bottle.
I guess it might be a bit strange to use a charger on the mantel, but I liked the added splash of silver; so it stays. Also left was the wooden frame that adds another layer and pulls all the surrounding wood together.
My Goodwill books and chubby clearance find birdie are more cream than white, but I kinda think it helps balance out the look and feel. With all the wood and dark rock I like the little bit of shine with the added touch of natural. But hey, I just go with what I like and makes me smile.
I'm all ready IF it snows in Georgia this winter...
with a snowman blankie on my recliner near the fireplace.
I probably spent $2 out of the clearance items to put a dash of winter shine on our mantel.
Who said pretties have to be expensive?
Do you have snow? (the real stuff) Or are you waiting on that 1st flake to fall?
I stood in a chair for about half the photos, but no; this flake didn't fall. ;-)
Made ya smile.
Linked to: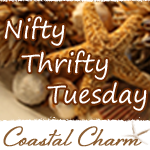 Add a Pinch - Mingle Monday