When I shared my photos from the shower on Facebook, I had numerous comments about this one...
Yep, there is a 'baby' in that watermelon!
Actually, it's a cantaloupe baby head.
Cute though, huh?
Creative too.
Nope, unfortunately I didn't make it. A friend of my sister's did all the work.
I just get to share it with you.
Who knew fruit could be so Adorable???!!!
A couple of other ideas we used at the shower:
Instant clothes line.
Everyone really enjoyed seeing the clothes 'hung on the line'.
The expectant Mommy framed her 3-D photos to 'introduce' the baby.
DIY cupcake stand
.
Pink lemonade was a fitting 'punch'.
She's going to be such a good mommy.
If you want other party and shower ideas, check out the brand new
U-create Parties blog
!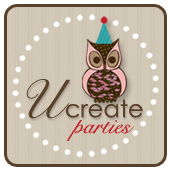 The watermelon baby is too sweet to keep the idea to myself, so I will be sharing on some of my fabulous
blog party links
this week.